« Unknown Oddity Obscuros (Help Wanted)
|
Main
|
Los Angeles New School »
April 20, 2007
Left Field All-Star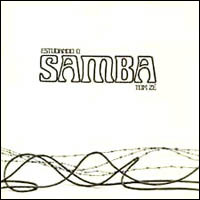 Tom Ze: Ma, Doi, Toc, and Mae (Maes Soliteira)
Taken from the album Estudando O Samba (1975)
What does it mean for a musician to be truly ahead of his time? As a safe measure you could say that if, thirty years after the production of the initial work, other artists--brilliant in their own right--are just barely beginning to get caught up to speed--well, that's a good sign.
Other clues: If a wormhole seems to have enveloped the music so that its vintage production value sounds as fresh as anything coming out in a contemporary context; if the techniques (looping? sampling? anyone?) employed to deepen the music are still under exploration; if a quarter-century hasn't diminished the content of an album--those are some pretty solid indicators, too.
By these criteria, it's safe to say that Tom Ze was a legitimate maverick. Excuse me--is as legitimate maverick. Homeboy's still at it. And here he is on one of his great works, Estudando O Samba. Released in 1975, this record is Ze's post-Tropicalia masterpiece: alternately beautiful, experimental, hypnotic, fuzzy, fonky and always fresssh, it's a record which very well could have been lost into the murky nether regions of recording obscurity, had it not been for a fortuitous interloper. But more on that in a minute.
Ah, 1975. Ze had spent the previous decade shoulder to shoulder with super-heroes--Gilberto Gil, Gal Costa, Caetano Veloso and Jorge Ben--exploding the roof off of the traditional Brazilian sound. Ze, in particular, was a cult figure, revered as much for his abstruse sound as his clever lyrics. Certainly as one of the founding members of the Tropicalia movement, it would seem that Ze had already carved his indelible mark on history. And to an extent, he had.
But Ze proved to be a little too advanced for his own good. Ardently opposed to the mainstream, he continued to make music that tested his listening public. And apparently his public didn't want to be tested. By the early 80's they had abandoned him. Spurned, Ze retreated from music altogether, returning to his small home town to work at a nephew's gas station. And that might have been the end...
Until David Byrne heard Estudando O Samba and was like, "Holy Mary, Mother of Zeus! WTF?!" An envoy was sent to find the elusive Ze, and the rest is history. Byrne signed Tom Ze as the flagship artist on the then fledgling Luaka Bop and fifteen years later he's still out there, blazing his way through left field.
Check out some of his recent work, including collabo's and remixes with John McEntire and Sean Lennon, and his NEW ALBUM(!) which, appropriately enough, marks Ze's impressive homage to thirty years of, yep, you guessed it, Estudando O Samba.
Viva Ze!