« January 2005
|
Main
|
March 2005 »
February 28, 2005
Yawn..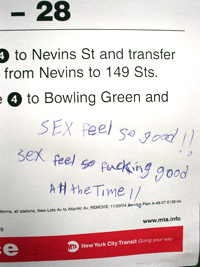 Watched about 5 minutes of the Oscars. Sean Penn look a little sloshed. Obligatory shots of Antonio Banderas and Carlos Santana when dude from Motorcyle Diaries won for best song. Uh...
In the spirit of the moving image, however, we're hosting two fun little movies from our boyo Edward:Mastermind for your perusal:
Finally got around to Spellbound on Gilmore's recommendation. Those kids couldn't hold a candle to me. One of them's at NYU now? Much more interesting than an Olsen twin.
Interesting article here about being homeless in Hollywood. The ethnographer side coming out on this one.
Also, the new Juxtapoz B/W issue is highly goodworthy.
And finally, love to Miss Chinaka Hodge for being dope as always and commuting to the Heights to make sure we're still alive. She taped her second appearance on Def Poetry Jam this week, and has finally updated her diary over at McSweeney's. I know it says she's single, but don't even think about asking us for an introduction. You ain't good enough.
February 26, 2005
February 25, 2005
February 24, 2005
February 21, 2005
February 20, 2005
February 13, 2005
February 10, 2005
February 9, 2005
February 7, 2005
February 4, 2005
February 2, 2005
February 1, 2005