« May 2005
|
Main
|
July 2005 »
June 29, 2005
Oscillate!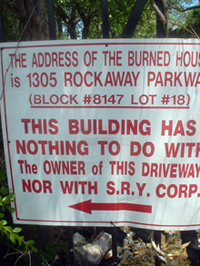 Proof positive that News & Booze is much better with Urn on the mix, our mans in Chocolate City has been keeping us well stocked on the linkage.
Heep Hop VeedeeOhs at Nobody Smiling, including one I'd never seen before from Bobby Bobby Bobby Digi Digi Digi allupinthatasslikeaVictoria'sSecretWedgie.
I know we should be beyond getting irked by shiz we read in Vice but that article this month about slavery myths was sorta foul. Shrug it off I guess? Eh, whatever. Hopefully Time educates a little more: Slavery Up Close.
On the Outs starring Judy Marte (Juicy Judy from Raising Victor Vargas) opens July 13th at the Film Forum.
For the skate kids, involves a little bit of work: Skate More ...go find the Daewon commercial in the videos section. I don't really keep up with 411 anymore so I hadn't seen any of these before... alls I know is I was one of the bajillion kids jocking Mr. Song and 'tech' style in the World Industries days. Anyway, fun stuff, and proof that it still doesn't come that easy for the pros.
Every time I come around... (via Moses the Mexican)
Delicious Library is a pretty mellow app for Macs that catalogs your books, movies, music, and video games. Also via Moses, who says the process of cataloguing is a major time sucker-upper, but kinda cool nonetheless.
MR Catra - O fiel -says it's the first documentary about Baile Funk.
Finally, goes Urn: on the heels of a "King Kong" film, some potent commentary on the nature of the original that prompts some questions concerning its remake: King Kong: Race, sex, and rebellion ...also I heard in the new version Kong hits the pipe and possesses an uncanny, even natural, sense of rhythm.
June 27, 2005
June 23, 2005
June 22, 2005
June 20, 2005
June 16, 2005
June 13, 2005
June 10, 2005
June 8, 2005
June 6, 2005
June 3, 2005