« June 2005
|
Main
|
August 2005 »
July 21, 2005
Peace to You and You and You...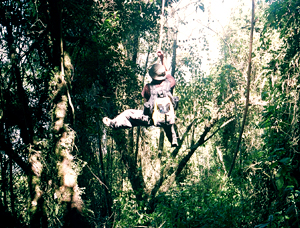 Ayyyyy... your regular News & Booze correspondent, Thugsy Bogues, is going on sabbatical for a hot minute. Subbing in for the next couple of weeks will be none other than the infamous couch-crashing internet-stealing Yao Bling, Mr. Urn Stlingferrow. Not that folks haven't already been introduced to dood when he did fill-ins a little bit ago, but still.. I gotta post one of my favorite recent quotes by the guy just to let you know what you're in for:

"I had a day when I was working at Whole Foods without insurance but with a hurting back, with James Brown's "Say it Loud, I'm Black and I'm Proud" blaring over the loudspeakers, and an asshole customer in front of me reading Adbusters off the rack, when i thought the irony would make my head explode."
Knowledge jewels on the daily. Enjoy Aaron's shenanigans people.
I was gonna do a last real post post, but eh... packing awaits. For now I'm gonna break folks off with the promo clip DZ and Moose3 put together for Tropic of Cancer that I promised earlier in the week: Tropic of Cancer Promo Clip. Speaking of which, the closing event for that pops off tomorr.. good times good times with Puerto Rico's Candela Crew.
Thugsy Bogues out. And remember, these peeps do it better:
The Stencil
Catchdubs
Poplicks
Can't Stop Won't Stop
Crailtap!
See yous all in 5 weeks.
July 19, 2005
July 18, 2005
July 15, 2005
July 12, 2005
July 8, 2005
July 5, 2005
July 1, 2005