« July 2005
|
Main
|
September 2005 »
August 27, 2005
August 22, 2005
August 17, 2005
August 15, 2005
Ennui Keep Going into the Future.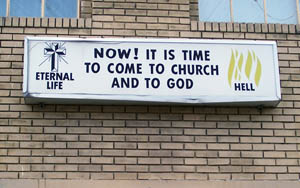 If there's a hell below...
I'm going to reason with y'all--I am experiencing some heavy existential crisiosis. Thusly, I am very much not one with the Web right now. So I hope some of the banter here brings somebody enjoyment. I'm going to go curl into a ball and eat a pulled-pork sammich as soon as I'm finished with this summamabitch.
Yo, DC Heads! Tomorrow night, Hiero, Non-Phixion, OC, and others at the 9:30 Club , $18. There are also dates for Jedi Mind Tricks, Z-Trip, and M.I.A. on the horizon.
Kanye and Common do their thing for "live" for AOL Sessions, flippin' the material a bit. And, of coure, Ye's intro is straight swole-headed comedy. (courtesy of Spine Magazine)
Mi compay Tim Dog refers me to some online scientician when I ask him help. Uh, thanks, man.
Positively Dusted: See how many songs you all can identify from the originals in DJ Semantik's "100 BREAKS" Mix
In an effort to show my love and respect, as well as add to this amazing movement that we call Hip-Hop culture, "100 Breaks" has emerged. "100 Breaks" is a collection of original breaks and samples, all of which have significantly influenced my life and musical tastes. I hope that listening to this mix can in some way shape and inspire you in the same way that the producers, dj's and mc's have inspired me with their renditions of these amazing musical accomplishments.
Oh yeah, last time I was in New York, I was 'sposed to meander out to Coney Island to peep ESPO and Company's shop-wreckage at the Dreamland Artist Club. (via A Silent Flute)
Japanese Humanoid Weirdness, Part 2: Whadafunk? I hope this is come kind of satire and not straight entertainment, if there is such a thing. (courtesy of The Stencil).
And finally, Via extended family and Tom Morello-props-recipients Outernational are gonna rocking for the freer world a lot in the immediate future. Their next show is scheduled for this Thursday, August 18th with Basement Bhangra at SOB's in NYC. Additional dates are listed here.
Okeydokey. It's a fine time for swine time.
August 12, 2005
August 10, 2005
August 9, 2005
August 7, 2005
August 2, 2005
August 1, 2005