« October 2005
|
Main
|
December 2005 »
November 17, 2005
Guinness in the Frigidaire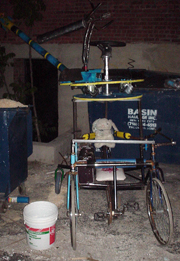 A! The Via Diablos re-upped and restocked the fridge, and life is aight as can be.
Do you like magic? How bout blue screens? How bout moustaches? Impress your friends and fambly with The Slide.
It's getting to that time again where I start retracting into my world of paper mache cave dwellings, but our dood Ix (who gets his own special shout in a few) shot me a link that will pretty much get me through the winter: Cloud Appreciation Society... so yknow folks, along with those phast phood photos, send the blue sky flicks to ant@bywayof.net and help reverse the SAD.
Between You and Me ...interesting short flick shot out in LIC i guess. I mean.. pretty corny plot, but I appreciate the labor. Was all shot with a Canon EOS 20D (digital still cam).
Dosa Man got served! ...for all the Washington Square kiddies.
Obsessive Drawing Exhibition at the American Folk Art Museum. Ix on the good word again. In there like swimwear. Who else wants a Franklin Booth tattoo?
Human Upgrades ...that's the word 'cunt' written waaaaaaaaaaaaay too many times for my tastes.
Homey James Blagden went and revamped his already cool site to become even awesomer. James is one of the mellowest folks you'll ever meet, and his art continues to impress. Click on the bio section if you were a kid under 10 years old in '88.. ultimate geek out TMNT fest.. we got Mondo Gecko, Triceraton, Mutagen Man, Genghis Frog, Fugitoid... c'mon man, James ain't fuckin around.
America's Next Muppet. Jeah.
Oh yeah, and um. Ixley, the voiceless guy who pulls all the strings in Via, is finally making his move and getting his shine with a new addition to the site: Ix Pics. You've all seen his work as the opening splashies for the site since we relaunched last year; now he's posting a new flick every day in the hopes that it'll get him regularly shooting again, and also to break folks off with some really nice images. We've been encouraging him to do this since the relaunch, and real proud of him for finally getting his stuffs out there. Leave comments and add him to your favorites on Photoblogs.org.
IX PICS IX PICS IX PICS IX PICS IX PICS IX PICS IX PICS IX PICS
November 8, 2005
Kicky You In Ze Teefs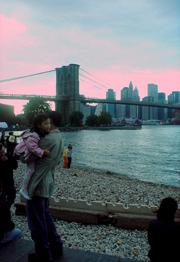 We had some technical difficulties, but all's well again. Sorry for the absence folks.
Grafuck. As the site says, making naughty pictures is fun.
Homey Masa's having a show in DUMBO and selling some prints. Go supportamatort.
I swear on Urn's face that he sent this to me. Flipping pre-vert.
Escher Legos. Those crazy Netherlandese..
Atiba keeps updating and I keep not skating.
I know this is old, but I still got a kick out of reading and spreading: Big mess of hip hop gossip. Believe what you will.
Ah, and the fellows at Ducksworth NY are having their launch party this weekend. Looks to be drunktacular. Adam's real good peoples, and we wish these doods the best of luck with what they're doing.
Speaking of real good people-- my taller, older-looking younger brother who isn't really my brother, Justin Yubanks, has been offering up audible treats for your earholes at: what do you know.
Um... WTF? Juelz, Ryu of SOB, Celph-Titled over wack Mike Shinoda GnR samplings? Ouch.
DZ's cousin Michael Leonhart got his web presence up. Dood's studio is analog heaven and he's got quite the bio. Peeps and listen.
News about the next Via Seasonal soon, folks. Sorry LA didn't work out, but we'll keep it mellow in the city this time around. Looks to be early December, mark your calendarios.
November 4, 2005
Big Ol' Titles.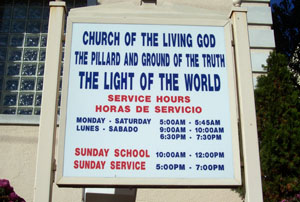 Jesus, that's a lot of words...
OK, so due to evil binary--Agent Smith and his Horrible Sequel Posse--I was not able to log this entry in advance, otherwise known as "when I actually felt like doing it." Thusly, all I have to say is that y'all really need to buy this book, Beasts of No Nation, the debut novel by my brother-from-another-mother, Uzodinma Iweala. He'll be reading tomorrow, November 5th, at 1 pm at Politics & Prose here in D.C. with addition dates as listed below:
November 10 Washington, D.C. Vertigo Bookstore 7:00 pm
7346 Baltimore Ave.
College Park, MD
November 16, New York Barnes & Noble 7:00 pm
10 Court Street
Brooklyn Heights
November 17 New York Harvard Club of NYC 6:30 pm
27 W. 44th Street
New York, NY
December 7 Boston W.E.B. Du Bois Institute 4:00 pm
Harvard University
Barker Center
12 Quincy Street
Cambridge, MA
Realer real talk, tomorrow. Sleep (cousin of death), now.