« June 2006
|
Main
|
August 2006 »
July 15, 2006
Via Media Presents: Summer '06 Seasonal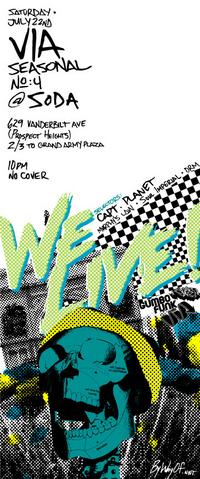 VIA MEDIA PRESENTS:
We Live!
Summer Seasonal 2006
Saturday, July 22nd 10PM - 4AM
@ Soda Bar
629 Vanderbilt Ave. (b/w Prospect Pl. & St. Marks Ave.) - Prospect Heights, Brooklyn
21+ // FREE
DJ's Captain Planet (WNYU / MTR / VIA), DRM (Bastard Jazz), Murphy's Law, and Soul Imperial will be mixing eclectic dance bangers to satiate your deepest darkest urges. Drink specials, free giveaways, and abundant booty shaking.
Brought to you by:
www.ByWayOf.net
www.BastardJazz.com
July 5, 2006
Corn.
No time for a flick today, just some mellow inspiration from an old guy: Milton Glaser.
Oh yeah. Superman sucked. Sincerely, Via.