« February 2005
|
Main
|
April 2005 »
March 31, 2005
March 30, 2005
The SAD Chronicles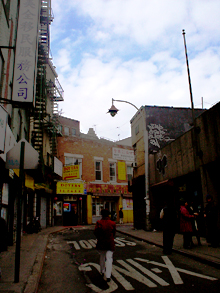 Seriously, these entries are basically me documenting my mood-swinging through the winter. Touched 60 degrees??? Nostrand Ave POPPING off. Fellas- get your cat-calling game in order. Ladies- get your mace ready. Spring's all nice and good, but I'm holding out for some kind of miracle jump from winter to summer. Also-- don't call me out in July when I'm complaining that I can't think properly and my glasses are fogging up in the humidity.
This doesn't really look like it'd work. Plus I already have one. It's called a flipping monitor. 18 hours staring at the box, I'm not trying to have another one shining on my noodle.
On a Via news tip (finally), we'll be doing our sales push in a little bit, re-upping the stores that have been carrying us for a minute, and hopefully getting picked up in some new doors along the way. Trying to reconnect with some West Coast shops to expand beyond NYC, and just doing the do. For out-of-state folks that have been asking how they can acquire shirts, do us a favor and drop the name and site to your local shops. In the meantime, you can always shoot an e-mail to sales@bywayof.net telling us what you're looking for, and we'll see what we've got in stock and work something out post-haste. We're not really trying to turn the house into the shipping center/logistical nightmare we had last year with online ordering, but hey, we like paying rent, kids like shirts, sun's coming out... works for everyone.
Brother Urn is on the mix:
Movies I Wanna See.
Bullet Boy (UK)
Dead Man's Shoes (UK)
Rock Fresh
Afropunk: The Rock-N-Roll Nigger Experience
The Agronomist
Quality of Life
March 29, 2005
March 28, 2005
March 26, 2005
March 25, 2005
March 23, 2005
March 22, 2005
March 21, 2005
March 19, 2005
March 18, 2005
March 17, 2005
March 16, 2005
March 15, 2005
March 12, 2005
March 11, 2005
March 10, 2005
March 8, 2005
March 6, 2005
March 4, 2005
March 2, 2005