« Hype!
|
Main
|
PARTY PARTY PARTY PARTY PARTY PARTY PARTY PARTY PARTY »
March 10, 2005
Relief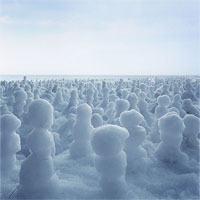 Though I suspected it before, working on this website has confirmed one thing — that I am truly and utterly a design nerd. This can be confirmed with one link. If you dabble in web design at all, you might get it. If not, think of it like this: It's a bunch of web designers remixing one web page and posting their creations. If you don't think that's nerdy, you're probably one of us. (This is the type of thing Ant will whine is contaminating his precious blog content, so I'm required to state that this post is by ixley.)
On the art tip, check out Bill Henson's new work (highlighted in the first issue of the recently relaunched Artkrush. Artkrush was a website back in the day that came proper with an assortment of art news and features but went into extended hibernation, only to link up with Flavorpill and be reborn as a bimonthly e-newsletter. If you think Henson's work looks kind of dark, Artkrush is what originally turned me on to Simen Johan's work, whose Evidence of Things Unseen and Breeding Ground are on some seriously beautifully, creepy ish.
**Ant's Note**
Actually it appears ix has contained himself somewhat, so this entry passes. Tell him you like the site by mailing jef@bywayof.net, and give him his due. But enough patting ourselves on the back, thar be a party tomarr that we're still nervous/excited about. Come and bring all your friends and their moms.
Here's my serious link for the month: Judge Dismisses Agent Orange Lawsuit
from the article:
"We've said all along that any issues regarding wartime activities should be resolved by the U.S. and Vietnamese governments," said Dow Chemical spokesman Scot Wheeler. "We believe that defoliants saved lives by protecting allied forces from enemy ambush and did not create adverse health effects."
In other news, Scot Wheeler is an ass.
On the day-job tip, ayy, a co-worker in the New Yorker. Dorinda's response to the article:
They say no publicity is bad publicity, but the New Yorker piece came pretty close. The society page meets ethnographic methods: "But you weren't dressed properly for the occassion!" The reporter was determined to portray a hapless college student and keep our discussion of policy recommendations for his notebook.
Posted by ixley at March 10, 2005 12:18 PM
Trackback Pings
TrackBack URL for this entry:
http://bywayof.net/cgi-bin/mt-tb.cgi/1