« PARTY PARTY PARTY PARTY PARTY PARTY PARTY PARTY PARTY
|
Main
|
Happy Belated Pi Day »
March 12, 2005
The Hungover Recap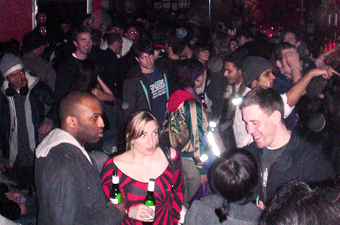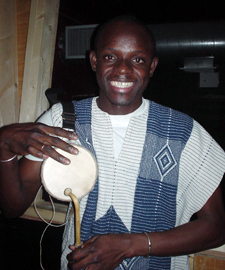 Looks like Via's 2 for 2 on the party tip. Thanks to everyone who came out to pack both floors of the joint, things looked beautiful from my little perch, and it was really good to see friends and fam (although some kids were conveniently stationed in California for the night.. you know who you is) from past events come out and throw more support, as well as a majority of folks I'd never seen before (this is a good thing).
Some post-party notes:
•when the conga troupe backs out, African drummers definitely provide an equally funky-frenzied alternative (props to Bako for hooking this up)
•Caps and Jones CAPITALIZING on the "dude, my parents are totally in Michigan for the weekend" basement (plywood floors, living room couch, leaky pipes, oh my) and turning that space into the grimiest, sweatiest, freshest high school dance pit I've seen in quite some time. Hope everyone's taken a couple showers since then.
•should probably bring the real mailing list forms next time... frantic searching for a 24 hour Duane Reade in the snow for a notebook and pen seems to deliver results such as this. We run a tight ship.
Alright, enough gassing. You'll see the photos (the non-doo-doo ones from a non-Anthony camera) soon enough. Welcome back to Via folks, enjoy your stay, there's much more to come.
Posted by ant at March 12, 2005 1:56 PM
Trackback Pings
TrackBack URL for this entry:
http://bywayof.net/cgi-bin/mt-tb.cgi/2